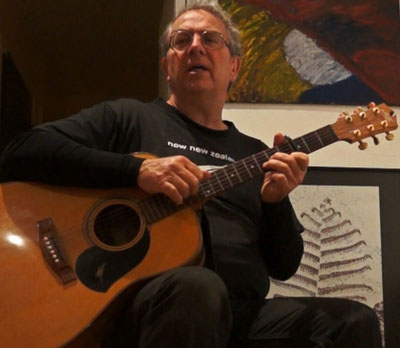 Back in 1994 it was love at first sight when I first experienced the Dances. I began leading the following year under the mentorship of Linley Main who was one of the early dance leaders instrumental in establishing the dances in New Zealand - as were Catherine Grace and Shanti Huebner, both of whom also contributed greatly to my understanding and development as a dance leader. I thank them all, and my many other teachers, from the depth of my heart. I became a certified dance leader in 2000.
I have been playing the guitar since I was a kid and music has been an important part of my dance journey. I provided guitar support for Allaudin for his Mana Dance Retreat in 2000 and similarly for Leilah Be for her 2008 zikr weekend and her 2013 Dance Retreat, both also at Mana. I am very happy to help other Dance Leaders and Musicians to develop their guitar skills and I have a considerable amount of intermediate instructional guitar material up on my YouTube Channel as well as on Google Drive.
I have had many new dances come to me, from 1996 right up to the present. I am gradually working through recording and documenting these on YouTube. My concentration in the Dances is strongly, almost exclusively, oriented towards Sufism and Zikr - the practice of Remembrance of our Unity with the One. I am initiated in the Sufi Order and I am deeply blessed to have Jamila as my guide.
I live at Wildwood Community in Kapiti. We have an open dance circle every 3 weeks (rotating with Sufi practice and Buddhist meditation in the other weeks). I dance almost every day as my central personal spiritual practice, often being joined by Anne Buchanan who is also a dancer and follows the Sufi path, as well as by Jean, my partner. I love dancing alone or with just a couple of other people.
In March 2014 we at Wildwood are hosting a 1 week Dance Retreat which will be led by Narayan, a wonderful and inspirational leader from the USA. He previously led a retreat here in 2000 (he has also led two major Dance Retreats at Mana). We anticipate continuing to invite international and New Zealand dance leaders to lead medium sized retreats here in the future.