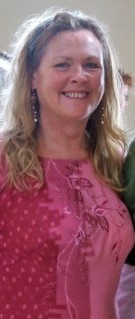 Hi,
I live my life in the Eastern Bay of Plenty in a small rural community. I enjoy a busy lifestyle with full time work, my lovely cat who loves the outdoors as much as I do, varied interests from writing spoken word poetry to swimming in any lake or river available. I also enjoy my granddaughter Caitlin as often as I can. I love spending time with my musician son and my daughter who is mad-keen on roller derby and also with my large extended family. Dancing in spirit with my heart family is my bliss.
I have a passion for reconnecting with sacredness in all aspects. Working with personal growth and reconnecting to our natural roots is a joy. The Maori dances brought through by Shafia Mariam are an inspiration to dance and to lead as the movements and phrases call me home to this land of my heart, Aotearoa New Zealand.
I enjoy leading dances, supporting dance leaders, being part of the national dance family and being able to offer something to our local dance community.
I lead with support from my beautiful friend Maniisha each month in Tauranga.
If you are in our region and wish to dance, please contact us, clarity4peace at gmail.com or 021 386 976
Blessed Be
Clarity