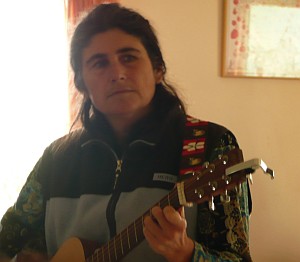 A journey of empowerment and self discovery
From the first time I danced, I was inspired and fascinated by the richness of the mantras and the different languages. I also like the community aspect and the sending out the energy to our community and to our planet at the end of sessions.
The dances have been transformational for me on many levels. Besides opening my heart, I discovered my feminine aspect and got my guitar out of its case. Trained as a classical guitarist I enjoy playing the guitar for the dances when I lead and for other leaders. French born, I have through the dances reconnected with my Celtic lineage and my French heritage.
Let's create a peaceful, joyful world
With a background of adult and community education, environmental activism and local politics, I strongly believe in community building and I love the magic of the dances. I believe the dances dissolve the walls we tend to build around ourselves.
My local circle
We are blessed in Hawke's Bay with a vibrant dance circle and many beautiful dancers.
Thank you
I am very grateful to the ancestors of the Dances, to those who spread the dances around the world, to DUPANZ, and to everyone who has travelled with me on my dance journey. I would like to thank particularly Elisabeth Latifa Mueller, Shafia Stevens, Jocelyn Fahey, Jamilla, Janine Melville and Pamella Whitedove.
I give thanks to the Universal Loving Energy
I give thanks to this country of Aotearoa New Zealand
For welcoming and nurturing my spirit and soul
I acknowledge my physical ancestors and spiritual predecessors
I thank the Source of all for support, love and abundance
May love, compassion and wisdom pour and radiate from every one of us,
Ash Shakur, Ash Shakur, Ash Shakur
Odilia