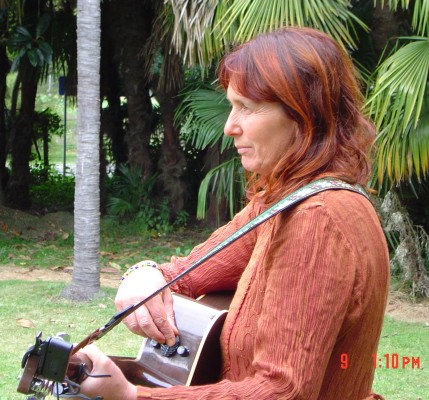 I have been dancing since 1994 - the Earthdance gatherings led by Catherine and Nasir captured me totally and provided an inspiration to continue dancing and also to begin playing guitars and drums as a support musician in Wellington. Eventually, I began leading dances too and have been involved with dance circles on the Kapiti Coast and Palmerston North for many years, also having evenings of zikr (Sufi devotional chanting) at my home in Foxton.
For many years I have been cocreating with Prem and Sally the 'Spirit and Nature' gatherings by the river at Otaki Gorge, and, being also an artist it has also been an opportunity for me to bring together the dances and my art - using my paintings to decorate the space we dance in has become a habit which has extended to Dance Camp and also satisfies my desire to get art into real life.
I am also a student of Te Reo Maori and through my love of the Maori creation stories have come to work with Shafia in offering 'Tihei Mauri Ora' weekends – wanting to build bridges of understanding between maori and pakeha and bringing some of the richness of the spirituality of this land to our dance community.
Wendy