"The wellspring of my health, the font of my happiness, the peace of my heart, the joy of my life" … reflection from a community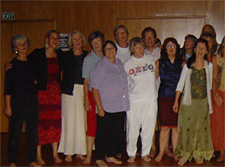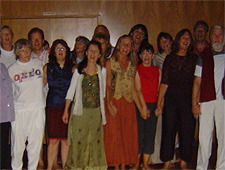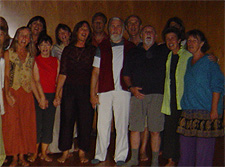 This circle was begun over 20 years ago by the loving and inspiring energy of Marnie. For the past several years Premanand hosted the sessions and has now passed coordination to his mentee, Nigel Hameed, himself a Certified Dance Leader. Through all of those years a vibrant, supportive and loving dance community has flourished. We celebrate the solstices and equinoxes, theme nights, DUP dance cycles, the Lords Prayer, Sufi Zikr in honour of Allah, and recognise the Goddess and all spiritual traditions of the earth.

Strong links exist between this Dance Family and the wider DUP community in Aoreatoa, NZ and beyond, with networks and invitations to regional, national and international events.

On the first and third Monday of each month, at 7.30pm, approx 20 beloveds regularly meet at the St Barnabas Church Hall - we warmly welcome any newcomers.
"Opening up my heart, my voice joining with others – dancing with the angels"

"Where else could I become a singer, a dancer and a drummer without any pressure to be a performer?"

"For me it is about being with family, heart-opening, being nourished as I go along"

"They provide a way of welcome self-expression that can be hard to find elsewhere"
"The dances bring depth, insight, peace and joy – embodying a deep spiritual experience"

"A profound way to open and connect with the Divine, in my heart and with others. It is an experiential pathway to higher conciousness and to the things that truly matter - love, joy and inner peace."



"Meeting in the heart, building Community"