"The wellspring of my health, the font of my happiness, the peace of my heart, the joy of my life" … reflection from a community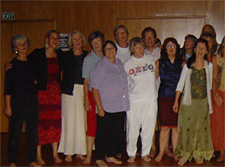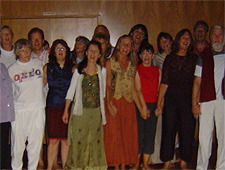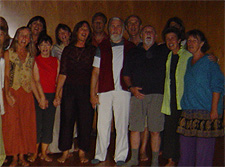 From small beginnings 14 years ago, the St Barnabus Dance family has expanded into a vibrant, supportive and loving community. Over the years we have celebrated the solstices and equinoxes, theme nights, cycle dances, the Lord's Prayer, Zikr, Taizé chants, the Goddess and most recently celebrating world angel day, as we honor all spiritual traditions of the earth. The energy of this group has been consistently held by one leader in her many manifestations as Lorrie, Tara and now Marnie. The Dances are a deep spiritual pathway for Marnie and she shares her experience with others in the spirit of deep humility.

Strong links have developed between this Dance family and the Te Moata Retreat Centre where many longer Dance events have been held over the years.

On the first and third Monday of each month, at 7.30pm, approx 30 members regularly meet at the St Barnabas Church Hall and we warmly welcome any newcomers.
"Opening up my heart, my voice joining with others – dancing with the angels"

"Where else could I become a singer, a dancer and a drummer without any pressure to be a performer?"

"For me it is about being with family, heart-opening, being nourished as I go along"

"They provide a way of welcome self-expression that can be hard to find elsewhere"
"The dances bring depth, insight, peace and joy – embodying a deep spiritual experience"

"A profound way to open and connect with the Divine, in my heart and with others. It is an experiential pathway to higher conciousness and to the things that truly matter - love, joy and inner peace."



"Meeting in the heart, building Community"