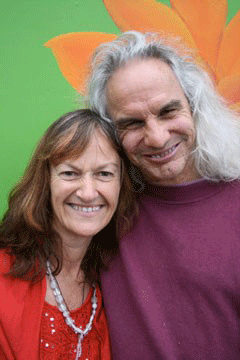 I was deeply touched when I discovered the Dances in Hawkes Bay in 1990. This was a time of great transformation and total change of lifestyle for me. As a result of a serious accident my interests shifted from extreme physical pursuits to an inner journey and the beginning of an awakening.
My Dance journey has taken me on numerous trips to Europe to escape winter here and to dance in the camps in England, Germany and Russia, attending 14 camps in 3 years. During this time I was inspired by many wonderful teachers, and the seed was sown to become a leader myself.
And thus, my greatest challenge in life began: always believing myself to be "musically challenged", it was a huge stretch to even think of singing in public!
In 2000 I finally took the plunge and began seriously leading. My journey with the Dances has evolved from the days when I was a playful, free spirit (known as Bill back then) attracted by the love and lightness of Dance Camps to a place where the Dances and Sufism have become my spiritual path and a great source of fulfilment, and leading Dances my main focus. I feel much gratitude to my mentors and friends who have been huge catalysts for me - Anahata, Narayan, James Burgess, Catherine & Nasir, Shafia, Jocelyn and Sally.
My path has led me away from my initial career as an industrial chemist/manager, and during the last 12 years I have focussed more on personal growth, creativity, overseas travel, facilitating workshops and the Dances. I was a guardian of Te Moata Retreat Centre in the Coromandel for 2 years before returning to Hawkes Bay.
I have a Diploma in Bodymind Therapy, and have undertaken foundation training in Psychosynthesis counselling, and am active in the Co-counselling community.
You can contact me here.